EMPIRE CONSTRUCTION AND TRENCHING
If your project requires precise ground site work and preparation, you can trust Empire Construction to do the work accurately.
Utilizing our D6 dozers equipped with Caterpillar ACCUGRADE™ Grade Control System, we are able to grade land with precision.  The D6N LGP dozer is particularly adept at handling soggy or soft soil (with the Low Ground Pressure) configuration and a 6-way blade set up for finishing work.
We are prepared to handle any work like these listed below:
Grain bin site preparation

Large commercial grain pad preparation

Sports fields

Airplane runways, taxiways, or aprons

Parking lots

Railroad roadbeds

Roads and highways

Landfill construction

Waterways

Ponds

Construction site land preparation (residential, industrial, or retail)

Various other precision site preparation jobs
 

OUR EXPERIENCE
Empire Construction and Trenching, Inc. has been operating in Southwest Iowa, Northwest Missouri, and Southeast Nebraska for well over 10 years and has grown into the regional leader for field drainage work, field terracing, and precision job site preparation work based on a reputation for delivering quality service, on time and on budget.
Empire is fully insured and bonded and has passed the First, Verify prequalification tests to work with large commercial customers.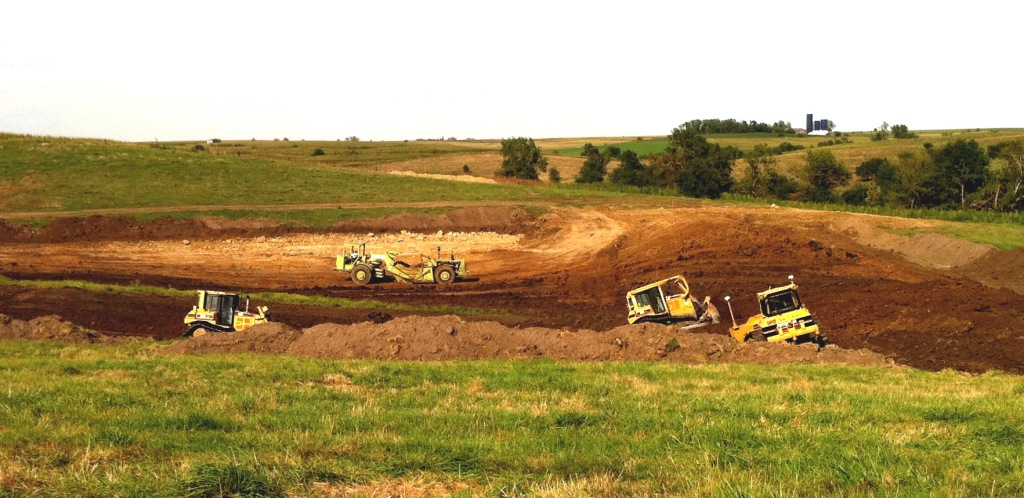 SOLE SOURCE CONTRACTOR
Empire eliminates the need to work with multiple contractors which can be frustrating and expensive.  Our extensive fleet of equipment ensures that we are able to perform the services you require.  Empire delivers on the promise of a single point of contact for your largest projects.
Of course, Empire is also happy to assist in completing larger projects as a sub-contractor when needed.